For all my readers I have a new application to share with you(and a free code which you can find at the end of this post.POSTMAN PAT SPECIAL DELIVERY SERVICE APP IS NOW AVAILABLE ON THE APP STORE!!!!!
Postman Pat application became available on the 06 September. You can download this application for you children to enjoy on your iPad, iPhone or iPod touch!
Postman Pat has delivered enchanting entertainment to young children around the world for three incredible decades. In this new app, launched to coincide with Postman Pat's 30th Birthday celebrations, Postman Pat delivers more than ever.
The Postman Pat App offers young fans games that deliver interactive early learning fun with their everyday hero, Pat. There are eight action-packed games to choose from plus a special bonus game where players can make pictures and fix puzzles from stamps collected during game-play. Perfect for young players, each game has been designed so that it is easy to learn and fun to play without the need of parental assistance.
Games include:
Helicopter Game: Help Postman Pat deliver the airmail. Which house does each of the parcels belong to?
Thompson Farm: Help Alf round up the animals into the right pens. Touch each animal and move them to the pen with the matching picture as quickly as possible.
Post Office Sorting Game: Help Pat sort the letters and parcels into the correct sorting bins.
Train Game: Help Ajay direct the trains. Look for the colored lights on the signal posts then touch the junctions to change the direction of the arrow points.
Whose Who?: Can you guess who each parcel belongs to? Touch each parcel and drag it to the correct person.
Garage Game: Pat's van needs some repairs. Can you find the right tool for the job?
Gift Giving Game: It's party time at Postman Pat's house and there's a sack full of presents to give out! Make sure each child gets the present they want before time runs out.
Post Box Run: It's time to collect the mail. Use your finger to guide Postman Pat's Van to each Post Box in the correct order so all the mail can be collected before time runs out.
Bonus Game: Postman Pat's House: Fix the puzzles with all the stamps that you have collected throughout all of the other games!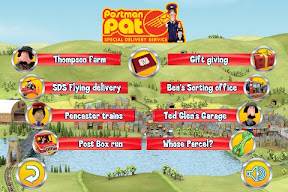 The Postman Pat Special Delivery Service App is now available for £1.99 from the App Store on iPad, iPhone and iPod touch or at www.itunes.com/appstore .
Direct link: http://itunes.apple.com/gb/app/postman-pat-sds/id458116091?mt=8
For a limited period though you can download this application for free using this code: 676TMXPN3H3W.(make sure you go to the REDEEM button!
If you download it please leave a comment below. I would love to read them as my daughter appreciates this application a lot!
Like this Article? Subscribe to Our Feed!