Pancakes with Meat(Clatite cu Carne)
For all my readers that love Romanian cooking and requested more today I decided to write for you the recipe for Pancakes with Meat. I already posted the recipes for Simple Romanian Pancakes and the recipe for Pancakes with cheese.
My daughter and I prefer the pancakes with cheese but my hubby loves the meaty pancakes. You know how men are!!! I do hope you will try it as I can assure you that the men in your life would like it.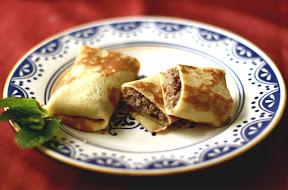 Firstly you will need to make the pancakes according to the Simple Pancake Recipe that I posted previously. You should try to keep them warm if possible(maybe in the oven).
For the filling you will need the below:
3 tbsp of cooking oil
2 oz onion chopped finely
1 garlic clove,chopped
1/2 lb. Lean beef minced
2 tbsp water
2 eggs beaten,but each in a separate dish
2 tsp salt
1 tsp fresh ground pepper
2 tbsp of sour cream
Heat a 1 tbsp of oil in a pan over medium heat and add the onion and garlic. Sauté until they become golden brown. Remove onion mixture and put in a bowl on the side. In the same pan add the meat,stir well and leave until it becomes brown. Add the other two tbsp of oil and the water and let it boil for two minutes. Stir and cover and cooked for another 2 min.You just need to make sure that the meat is perfectly done and the water is completely evaporated. Remove the meat to a bowl and let the meat cool.
When the meat is cool add 1 beaten egg,salt,pepper,and sour cream.(if you give this to the kids maybe not add salt and pepper at this stage). Anyway,mix all well.
Take one pancake at the time and add 1-2 tbsp of meat in the centre of each pancake. Flip two sides over and then the other two.
In a deep dish mix one egg with 1 tbsp of oil. Dip each pancake in the egg mixture to coat both sides.
Heat 1 tbsp of oil in a different pan and brown the stuffed pancakes about 5-6 min per side.
You can serve this as you wish with sour cream, vegetables or chips!
Enjoy!
Like this Article? Subscribe to Our Feed!