#FridayFoodie becomes Foodie Friday
Happy Friday! I know that some of you thought (myself included) that this linky will no longer exist. But then the lovely Helen from Casa Costello asked me if we could run this together and I say "Ok why not.". Not sure for how long this will happen though as we don't know how it will work. So if you our readers will make the linky work will be lovely!
Today, Helen will be the host of the linky so she will do all the admin 🙂 This means that she will do all the things that are stipulated in THE RULES of the linky.
The linky will still have a theme and the theme this week is SAVOURY – so please feel free to enter all the old , new, latest recipes and you will have lots of love from us. Here are the rules:
A new theme will be set every week and only the themed recipes need to be linked up – new or old.
If you linked up one recipe than please visit one other entry, pin it to one of your boards and let them know you found them via this linky by adding the hashtag #foodiefriday or #foodiefridays;
All entries will be pinned to the existing Pinterest Board now called Foodie Fridayfollow, as much as possible shared on other social media platforms – Facebook, Twitter, Google +;
Of course it will be wonderful to also add the linky badge. We have drafted a couple here.
This is the badge you need for this week as it directs you to Casa Costello blog: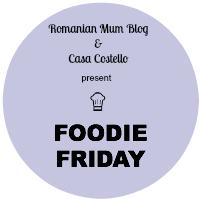 Follow Otilia Stocks's board Foodie Friday on Pinterest.Looking forward to see your recipes and please do welcome the new linky host – Helen Costello.

Like this Article? Subscribe to Our Feed!